Wikipedia
Wikimedia Governance. Wikimania. Presentation. Buenos Aires, From 26 to 29 August 2009. Video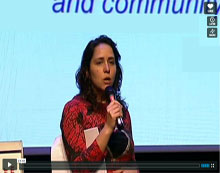 Conference Wikipedia: Critical Point of view (CPOV). Institute for the network culture. Presentation: Wikimedia Governance: The Role of the Wikimedia Foundation and the Form and Geopolitics of its Internationalization. Amsterdam, March 2010. Video
.
.
Fuster Morell, M. (2011). The Wikimedia Foundation and the Governance of Wikipedia's Infrastructure: Historical Trajectories and its Hybrid Character. In Lovink, G., Tkacz, N. & Roberts, I. (eds). Critical Point of View Reader, Amsterdam: Institute of Network Cultures, 2011. Retrieved from http://www.networkcultures.org/_uploads/%237reader_Wikipedia.pdf
Fuster Morell, M. (2010). Chapter: Representative Foundations model: Wikipedia . Governance of online creation communities. Provision of infrastructure for the building of digital commons. PhD Thesis. Social and Political Science Department. European University Institute (Florence).
Fuster Morell, M. (2011). Book review: Reagle, J. R. (2010) 'Good Faith Collaboration: The Culture of Wikipedia'. MIT Press: Cambridge. Journal?Information, Communication and Society. Routledge. ISSN: 1369-118X. Retrieved from http://www.tandfonline.com/doi/abs/10.1080/1369118X.2011.602092
Aibar, E., & Fuster Morell, M. (ed.). (2012). Special issue: Wikipedia research. Introduction. Journal Digithum: Les humanitats en l'era digital. Retrieved from http://digithum.uoc.edu/ojs/index.php/digithum/
Fuster Morell, M (2010). Participation in Online Creation Communities: Ecosystemic Participation?. Conference Proceedings of JITP 2010: The Politics of Open Source (p. 270). Retrieved from http://scholarworks.umass.edu/jitpc2010/1
Fuster Morell, M. (2011). Wikipedia & Research: The innovative character of Wikipedia research and the new challenges (and opportunities) associated with it innovative character. In Hellmann, S., Frischmuth, P., Auer, S. & Dietrich, D. (ed.). OKCon 2011. Open Knowledge Conference Proceedings of the 6th Open Knowledge Conference Berlin, Germany, June 30 & July 1, 2011. Universität Leipzig, Germany and Technical University Berlin, Germany. Retrieved from  http://ceur-ws.org/Vol-739/
CASTELLANO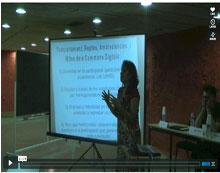 Implicacions polítiques dels commons digitals. Escola d'Estiu de l'IGOP, Barcelona, July 2012.Video
Fuster Morell, M. (2011). Participacion en communidades online y democracia radical. En A. Calle, Democracia Radical. Entre vínculos y utopías. (pp. 129-148). Barcelona: Icaria Editorial.
Fuster Morell, M. (2012). El surgimiento del concepto de participación en entornos en línea: Lecciones y retos para las experiencias de democracia digital . (p. 139-203). en E. Campos y I. Ramos (Ed.). La ciudadanía en 3D: democracia deliberativa digital. Un análisis exploratorio. Madrid: Fundación IDEAS.
ITALIANO
Fuster Morell, M. (2010). La participazione nella comunità di creazione online. Participazione come eco-sistema. I casi di Openesf.net i Wikipedia. Politica dil dirito. Il Molino nº: 2, September 2010 (Italy). (pp. 515-544). Impact factor: Journal Indexed in DoGi-Dottrina Giuridica, Articoli italiani di periodici accademici (AIDA), Catalogo italiano dei periodici (ACNP). Retrieved from http://tinyurl.com/9damayc