Leónidas Martín Saura Lecture Monday April 1st @Harvard on Political art, communication tech & fun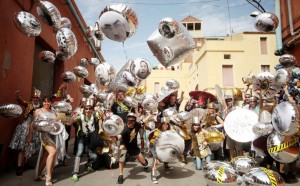 Those enjoying artivism – new technologies & political art – are very lucky. Next week Leònidas Martin Saura – key exponent of the social movements artistic hacking scene in Spain (with actions such as Pret a Revolter, New Kids on the Black Block, V de Vivienda, YoMango, Reflectantes) – will give a ADPD Lecture at the Graduate School of Design (Harvard University).
Details:
Monday, April 01 – 12:00pm – 02:00pm
Stubbins (Room 112), Gund Hall, 48 Quincy Street, Cambridge, MA
Event website: http://www.gsd.harvard.edu/#/events/adpd-lecture-le-nidas-martin-saura.html
More about Leo: http://leodecerca.net
I can assure it is going to be politically very savvy & a super fun experience!
Mayo
PD: Yes, I am one of the amazing Reflectantes at the event picture.
… some days later
The presentation went great! And I enjoyed a lot seeing my friend Leo.
Here some lessons from the experiences he presented:
The less you do the better

Creativity can turn around any situation
Make public your private thoughts
Don't be afraid. Courage word include "cor", meaning heard
Use your super powers to reflect back
Make visible the invisible
Transform your anger into fun
If you can act it out, it's real
One Response to Leónidas Martín Saura Lecture Monday April 1st @Harvard on Political art, communication tech & fun