Mayo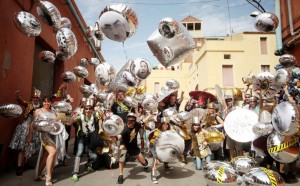 Those enjoying artivism – new technologies & political art – are very lucky. Next week Leònidas Martin Saura – key exponent of the social movements artistic hacking scene in Spain (with actions such as Pret a Revolter, New Kids on the Black Block, V de Vivienda, YoMango, Reflectantes) – will give a ADPD Lecture at the Graduate School of Design (Harvard University).
Details:
Monday, April 01 – 12:00pm – 02:00pm
Stubbins (Room 112), Gund Hall, 48 Quincy Street, Cambridge, MA
Event website: http://www.gsd.harvard.edu/#/events/adpd-lecture-le-nidas-martin-saura.html
More about Leo: http://leodecerca.net
I can assure it is going to be politically very savvy & a super fun experience!
Mayo
PD: Yes, I am one of the amazing Reflectantes at the event picture.
… some days later
The presentation went great! And I enjoyed a lot seeing my friend Leo.
Here some lessons from the experiences he presented:
The less you do the better

Creativity can turn around any situation
Make public your private thoughts
Don't be afraid. Courage word include "cor", meaning heard
Use your super powers to reflect back
Make visible the invisible
Transform your anger into fun
If you can act it out, it's real
This March I participated in a seminar around the question "Whose Change is it Anyway?" at The Hague organized by Hivos and my friend Nishant Shah. The methodology was very experimental. I joined the experiments by doing a "One question interview" to each of the participants asking them for guidelines they use in their life – with a focus on what they did learn from the hackers ethics (as most of us were hackers), but not only. Here is the list of life lessons I collected. Hope you enjoy it! Mayo
Life lessons – Shared by Whose change group. The Hague March 2013.
* Break the non-sense locks
Break the rules/walls if they are stopping your from doing a good thing for many without harnessing none. An advise from a hacker.
* If you know how to, just fix it!
Those fixing things must not be punished, even if doing it in a not conventional manner or a manner that question authority. An advise from a hacker.
* Do not propose, but do!
* Fail cheap
* Be brave to be different
* There is not try, do or not do.
Do things hard.
* With great powers, come great responsibility.
Do not use your capacities and qualities only to yourself, but act with collective responsibility.
* Here & now
* To taste an idea, say it load.
Even if you say it to your self, vocalizing things will help you to see the idea with certain perspective.
* Forgot about the box and get thinking
This is a critique to the idea of "thinking outside the box", the point is that there is not box.
* Get close to the place where you want to be and create the opportunity to get in.
* Act with serendipity. Do things without clear porpuse, they might end up on great connexions.
* Learns from the lessons of what previous people did in the same situation.
* Share to keep learning.
* Many eyes make all bugs shallow
* Keep progress
* Anger makes you engage, love makes you go further.
* Live each day as if it would be be your last.
* Be open and smille
* Find new language to represent reality all the time.
Do not try to keep to existing forms just becouse they worked at some point, they might not be the ones adapted to the new context.
* Never read people as things.
* Thinks twice.
* Think before you speak.
* Eat your dog food.
http://en.wikipedia.org/wiki/Eating_your_own_dog_food
(Hackers principle).
* Use free software, even for more reasons if you engage on digital politics issues.
To give a tribute to Aaron Swartz, researchers are making articles freely availeble. Large majority of my papers are accessible linked to this website on section publications . However, this one was lacking, it is a Chapter of a book.
I still can not "understand" why the publisher of the book is not providing the Chapter open access, and furthermore is asking to pay so much money (30 dollars for my Chapter, 195 for the book) to access my Chapter. The publisher did not pay me anything (or my public University supporting my salary) for writing the Chapter.
Here we go:
Fuster Morell, M. (2012) E-Research Collaboration of International Scope in Social and Political Sciences: Scale and Complexity Linkage with the Requirement of Physical Encounters. In Juan, A. Daradoumis, T., Roca Sales, M., Grasman, S. & J. Faulin (Eds) (2012). Collaborative and Distributed E-Research: Innovations in Technologies, Strategies and Applications. Hershey, Pennsylvania: IGI Global. (pages 330-346). http://www.igi-global.com/book/collaborative-distributed-research/58272
Dowload it here:
final_collaborative_research_mfm_published
I met Aaron Swartz back in 2009. He came to a seminar on free culture I organized at the World Social Forum in Betlem do Para (Brazil). It is not that frequent activist that wants to engage both with the social justice movement and free culture movement, but he was one. Then, I kept seeing him in conferences and events, the last one at the PDF in June 2012 in NYC. I remember well this last time, he was smiling, enthusiastic while talking about research. It was a pleasure talking with him, he was curious, but it was you who learned. It was an special person, and a person focus to achieve the dreams that make you feel truly alive.
Meeting Aaron caused me great impression. His departure, too. Still I need to elaborate it. I am so sorry for him, and for his brother Noah and family, and for all the community. But his dead not only touch him, but what he represents for the ideals we (and many) share. It is time to reflect and learn, deep, more being researchers "every single human being should freely access the sum of all knowledge". Aaron contributed hugely to it. Beautiful that researchers are liberating their articles online in Tribute to him #pdftribute. Love Aaron!
Mayo